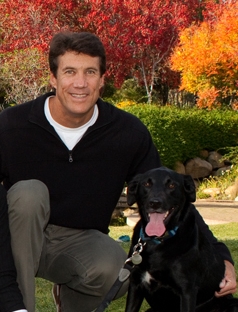 Morgan Prescott Jones is the principal engineer and owner of Doyle-Morgan Structural Engineering (DMSE).  The company has been in business in Santa Barbara, California since February 2000.  Morgan graduated from Cal Poly San Luis Obispo having earned his degree in Architectural Engineering.  He became a California licensed Civil Engineer in 1991 (CE License C46678); and went on to become a licensed Structural Engineer in California (SE License S4169) and Hawaii (PE 16817 – Structural Classification).
Early in his career, Morgan understood the benefits of close collaboration with clients in applying structural concepts during the design process.  In turn he developed a vision to support his clients' success, by forming trusted, loyal relationships that would promote team partnerships for the timely and cost-effective completion of projects.
Since establishing DMSE, Morgan has been able to serve the needs of his clients through this commitment to the principals of his vision. He remains personally and professionally committed to their unique and distinguished designs through focused and specialized engineering practices.  Both the City of Santa Barbara and County of Santa Barbara Building Department staff are well acquainted with DMSE, where Morgan maintains an excellent reputation for his structural engineering skills.
Who We Are
Doyle-Morgan Structural Engineering (DMSE) is a licensed and fully insured structural engineering and consulting firm specializing in new construction and remodeling of estate and custom homes.
We are passionate about our application of engineering to the architectural design and construction of our clients' projects. DMSE is intentional in applying this passion and energy into responsive, reliable and reputable service to its clients.
DMSE values effective communication on both the engineering design and production side of construction as a prime ingredient to the success of a project.  For that reason, our engineering focus is on client services that emphasize availability and responsiveness.  In this way we are able to effectively support technical accuracy and contribute to the project team as a collaborative partner. These fundamental principles, together with our structural engineering expertise, position DMSE to readily accommodate client requests, architectural expression, site conditions, and building code requirements.
With our extensive work experience and dedication to quality engineering services, DMSE maintains many loyal and returning customers.  Our clients are confident of DMSE's cost-efficiency and success in achieving their construction goals.  They know that DMSE can ensure their projects are done on time and within budget.
What We Do
We invest in our clients' structural engineering requirements by listening carefully and working closely with them.  DMSE provides engineering solutions that align with the architect and owners' design vision.  We build partnerships, so that a high percentage of our work is repeat business with existing clients.
Our extensive experience gives us the expertise and flexibility to deliver engineering services on complex large-scale projects, including estate homes and office buildings; as well as small-scale projects such as residential remodels and additions.  DMSE's experience also encompasses civil projects and special and unique projects as represented in our portfolio.
We understand that what we do makes a difference not only to our clients – but to ourselves, to our profession and to our communities.
What sets us apart?
DMSE knows that our clients require technical expertise, engineering excellence, and solutions to design challenges.  We are always responsive to the project team and available to communicate with those in the field charged with constructing the design. We believe that we must not interfere with the creative process, and that we have to be flexible and timely while maintaining the highest degree of safety and quality.  This is what sets us apart as a structural engineering firm; and this is what our reputation is built on.
Why choose DMSE?
Licensed Structural Engineering
Fully Insured
Registered Professional Engineer
Over 25 Years Design Experience
Maintains Client Confidentiality
Sustains the Reputation for Responsiveness
Provides Expertise in Efficient Design
Cost Conscious
Committed to Safety
Invested in Community
Our Mission
DMSE  believes that it has an obligation within the profession, to make charitable contributions that provide shelter and safety within communities. We therefore desire to assist organizations in their efforts to provide resources that encourage, educate and enable individuals to sustain safe, healthy, and productive lives.
Our mission and vision statements were conceived around these core values.
The three-fold mission of DMSE is: 
to be responsive to our clients with a commitment to safety and reliability;
to be responsive to the project team, by providing skillful support with our commitment to service and project progress; and,
to be responsive to our local and global communities by contributing to organizations that strengthen them.
Our Vision
It is DMSE's vision to maintain and strengthen our reputation for responsive, reliable, reputable and skillful structural engineering services.  DMSE also desires to be known as a company that gives-back a portion of its success in order to strengthen and enhance the lives of under served and vulnerable individuals and families.  DMSE's investment and commitment to a number of local and global non-profits, promotes this vision.
We are proud to have been able to support charitable organizations over the years, including:
C3H – The Central Coast Collaborative on Homelessness
Child Hope International (Maison de Lumiere ~the Lighthouse, Haiti)
Common Ground Santa Barbara
Compassion International
Court Appointed Special Advocates (CASA) of Santa Barbara
Habitat for Humanity
Hearts Therapeutic Adaptive Riding
Noah's Anchorage Youth Shelter
Royal Family Kids Camp
Special Olympics of Southern California
Uffizi Order – Santa Barbara partnership organization to pursue social justice in our community
The Unity Shoppe
World Vision
Youth and Family Services YMCA